Surgical procedures are an important addition to the therapeutic possibilities in order to achieve oral cavity sanation. Many of these treatments are carried out at the request of an orthodontist, a periodontologist or a prosthetist. Also conservative dentistry applies surgical procedures if the treatment turns out to be unsuccessful.
The most common types of treatments:
atraumatic dental extraction, removal of impacted teeth,
preservation of alveolar bone,
hemisections - surgical removal of a root and its related coronal portion of a two-rooted tooth,
trisections - surgical removal of a root and its related coronal portion of a three-rooted tooth,
radectomy - surgical removal of one or more roots of a multi-rooted tooth,
root resection - surgical removal of the end of a tooth's root, also in the case of a multi-rooted tooth,
treatment of oroantral fistula after teeth extractions and operations on the maxillary sinus,
dental care for patients with dental injuries, bones and soft tissue of the mouth injuries and face injuries,
periodontal surgery including resections and regeneration,
GTR and GBR regeneration treatments using Emdogain biomaterials and collagen membranes,
mucogingival plastic surgery, covering gingival recession,
pre-surgery - improving the local conditions of the prosthetic field, reconstruction of bone and soft tissue,
pre-implantation surgery during implants placement - sinus lift surgery using an open or closed method,
horizontal and vertical augmentation of the alveolar bone,
bone blocks transplantations,
splitting of the alveolar bone,
guided bone regeneration using resorbable and non-resorbable membranes,
other e.g. a plastic surgery of the frenulum of upper lip, tongue,
buccal cavity deepening,
cysts enucleation,
removing salivary gland stones,
dental care for patients with teeth or facial skeleton injuries.
We offer a separate part of the clinic serving as an operating room, a recovery room, a nurses' office, toilet and a shower. Immediately after a surgery, a patient stays under medical supervision of the doctor. We use a wide range of biomaterials, bone substitutes, freeze-dried animal bones, or resorbable and non-resorbable membranes. We use the Nobel Biocare, Alpha Bio, Miss and Dentium implants, however, we can place any implant according to a patient's wish.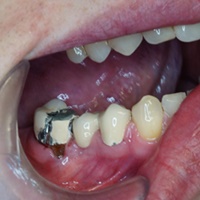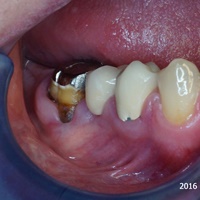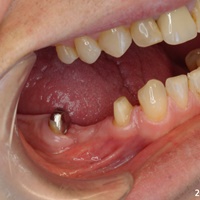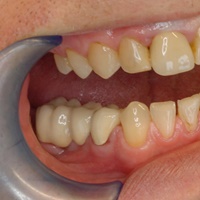 Ten years after having a bridge placed the patient has turned up with gum recession and root caries. Instead of tooth extraction, a hemisection has been carried out and a new bridge has been placed.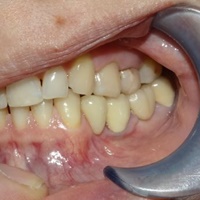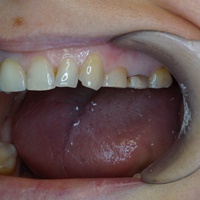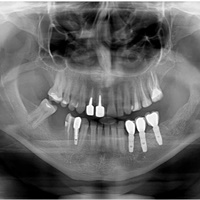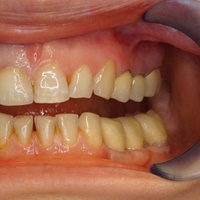 The reconstruction of alveolar bone of the jaw, gums reconstruction, lengthening clinical crowns of upper premolars, implantation.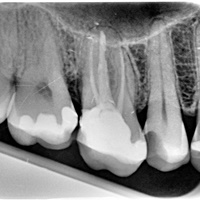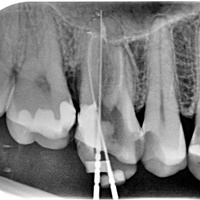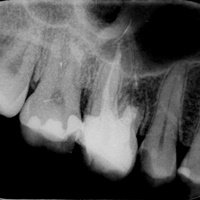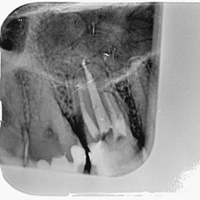 A patient with pain, unsuccessful attempt to unblock the root canals under a microscope. A decision was made to perform resection of the buccal root. X-ray check-up a year after surgery.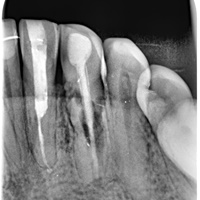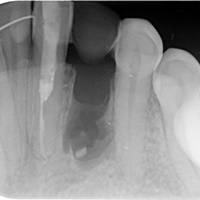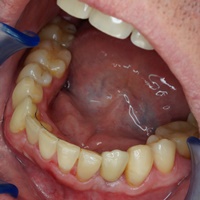 After tooth transplant resorption developed and the tooth had to be extracted. The photos show bone recontruction, implant and prosthetic treatment.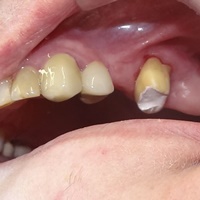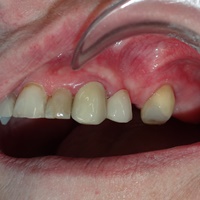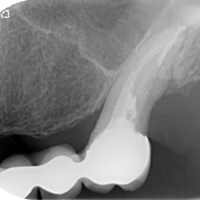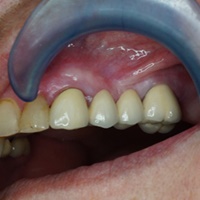 Inflammation has developed under the crown of the bridge. Distal furcation of tooth 26. After radectomy a new bridge was made and an abutment on the same teeth.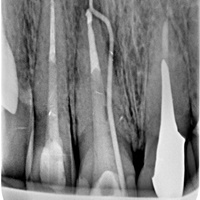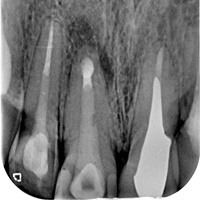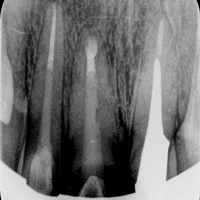 Resection surgery is the last resort method. If more efficient and modern treatments fail, resection is the solution instead of tooth extraction.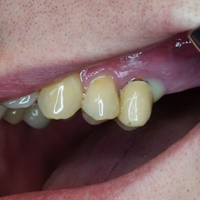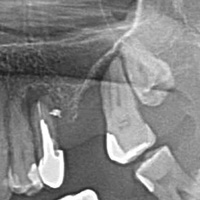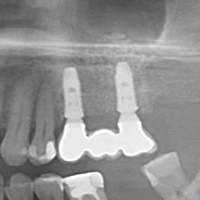 Regeneration treatments are quite popular. The photo shows simultaneous vertical apical-coronal augmentation and, also, horizontal augmentation.